The DaVinci tool, a hand held massager that lets you do almost nothing while getting massaged.
 A simple massage can do wonders for a tired and stressed out body. Aside from providing relief and relaxation, massages can also specifically target sore muscles, enhance your body's immune system, improve your skin, alleviate your mood by lessening depression and anxiety and releasing endorphins, increase your energy, enhance the quality of your sleep, improve concentration and circulation, and reduce fatigue.
 Because of the many benefits of massage, a lot of people regularly go to massage therapists and some also have their own hand held massagers at home. These hand held massage tools will allow you to have a good quality massage without the help of a massage therapist. You can easily view different hand held massagers and purchase them online as well at BodyBack.com. You will find a wide selection of massage accessories such as massage rollers, back massagers, massage balls, and many more.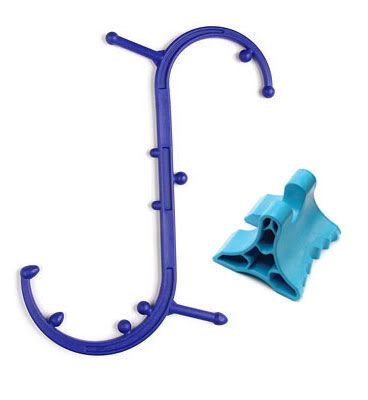 One of these massage accessories that is worth noting is the DaVinci Tool, a trigger point massager. The tight tender spots in contracted muscles are called trigger points and massage therapists work on releasing these trigger points by applying pressure on them. These trigger points are areas where there are decreased circulation and pain caused by increased nerve sensitivity. When pressure is applied on these trigger points, the pain is decreased or eliminated totally. The DaVinci Tool is a hand held massager that is specifically designed to target trigger points in your body.
 Benefits
There are many reasons why the DaVinci Tool Soft Trigger Point Occipital Neck Massager is among the best hand held massagers you can have. Below are just some of these benefits.
Small and compact. The DaVinci Tool is very small and easy to use so you can even bring it with you even when you are travelling.
Relieve pain. It can easily help relieve neck pain, headache pain, chronic pain, muscle spasms, and stiffness.
Easily target hard-to-reach areas. The DaVinci Tool is specifically designed for very little movement from you. You can easily put it on a part of your body and then rely on your weight to put pressure on the specific area you are targeting.
How To use
The DaVinci Tool is one of the easiest to use among other hand held massagers. You will not have to learn any strokes or technique to be able to use it effectively. Below is a guide to help you.
1.       Place the DaVinci tool at the top of your neck and base of your skull.
2.       Lie back and relax. You may adjust the position of the DaVinci tool to where you feel it is most effective.
3.       You may do the same for almost any part of your body such as your lower back, your sides, your thighs, and many more.